NAVIGATE THE PILLARS OF REGULATORY AFFAIRS EASILY
Rimsys is the only holistic RIM software on the market designed specifically for medical technology companies, with functionality for the pillars of regulatory affairs.
Monitor and manage global registrations and regulatory applications.
Digitally create, manage, and maintain all Essential Principles.
Automatically and proactively monitor and manage global standards.
Track changing laws, regulations, guidance documents, and relevant news.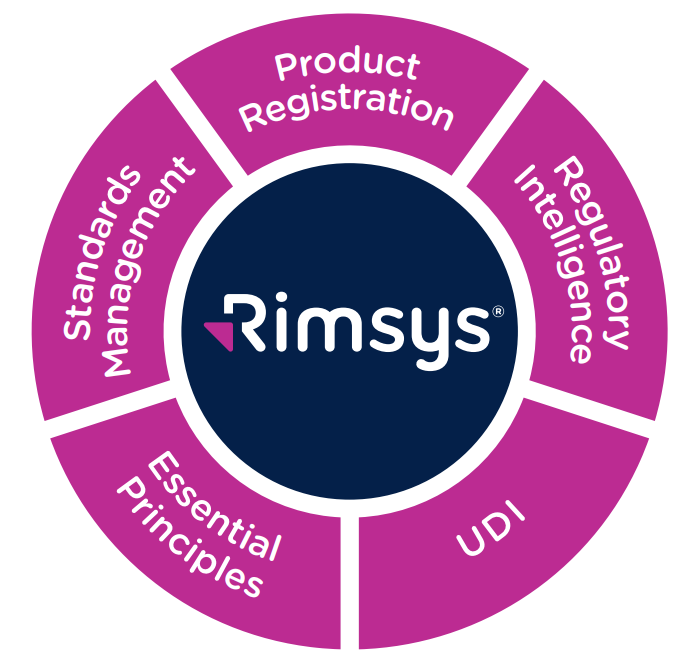 FAST, EASY, AND SECURE IMPLEMENTATION



Easy enterprise integrations

*Compliant to: FDA 21 CFR Part 11, ISO 27001, ISO 9001 and AICPA/SOC

Used and trusted by the world's leading medtech companies
Our platform is used and trusted by companies, including Johnson & Johnson, Siemens Healthineers, and Terumo, because it consolidates all the functions of regulatory affairs, making it easy for you to digitize, automate, and navigate the global regulatory landscape.

Built by and for regulatory affairs professionals in medtech
Rimsys was built by regulatory affairs professionals who spent decades dealing with the same inefficiencies you experience today. We carefully designed an interface to mirror the workflows you know and developed secure archives to provide your company with continuity over time.

Easy to start and simple to scale as your company grows
Rimsys creates efficiencies in your department so you can focus on the job you were hired for. As completely off-the-shelf software, Rimsys is fast and easy to implement, and maintenance-free.
WHAT LEADING COMPANIES ARE SAYING
"No alternative even comes close to Rimsys."
"If you're a medical device regulatory professional…. I promise you, [Rimsys] will change your life in a good way."
Rimsys is a world-leading Regulatory Information Management software for medical technology companies that digitizes, automates, and creates regulatory order. The only holistic RIM software for medical devices, in vitro diagnostics, and medical device software, Rimsys makes it easy to navigate the pillars of regulatory affairs, including product registration, standards management, essential principles/GSPR, and regulatory intelligence. Rimsys is a holistic platform built by and for regulatory affairs professionals to efficiently ensure that products adhere to changing global regulations.